LSPM400/600A Wooden Moulding Profile Spray Coating Machine
1. Apply to spray plate workpiece, especially for doors.
2. Equipped with double rotary worktables, improving the working effiency.
3.Workable can be fixed or turned according to the working requirement
4. With Ti Al Alloy integrated module for axis X Y Z to get high precision, low noise and long life.
5. With professional motion controller and industrial PC, to get more accurate and fluency spraying, and easy to realize the spraying for compliated workpiece, such as irregular circular workpiece.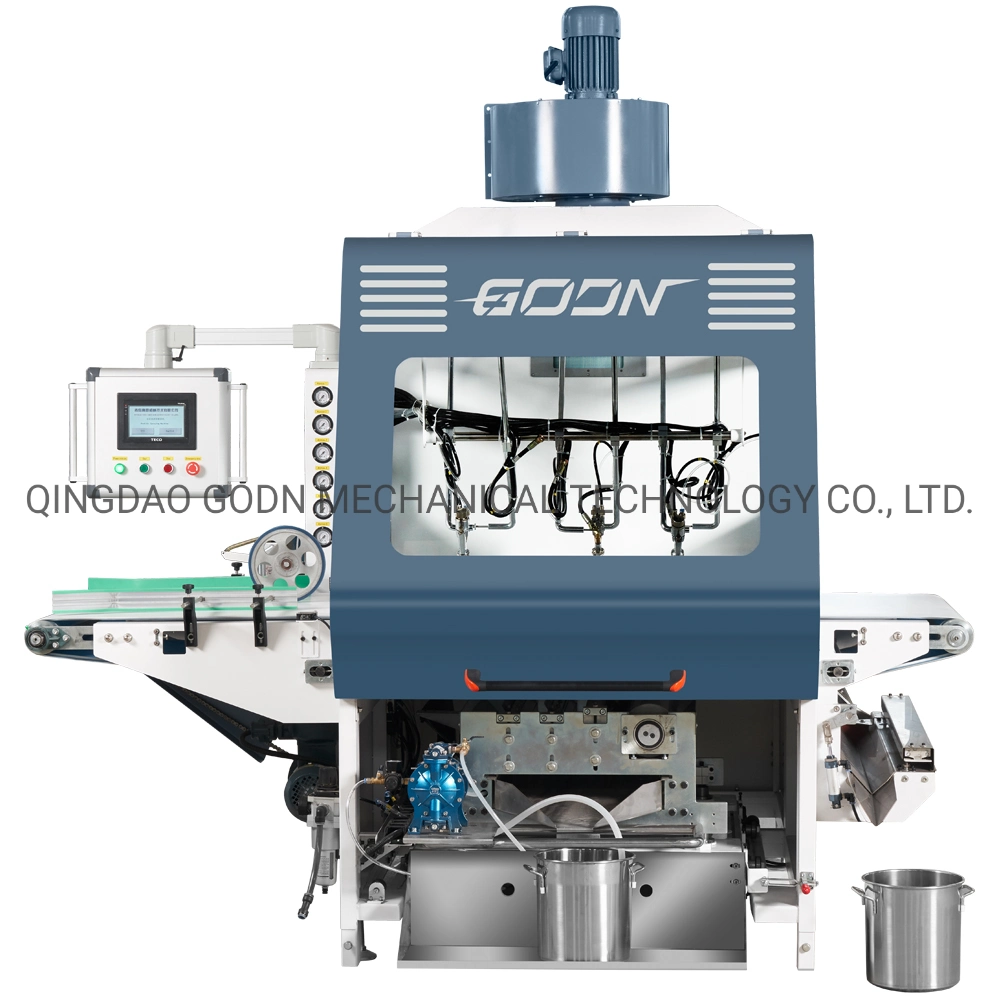 | | |
| --- | --- |
| Model | SPD2500D |
| Overall Dimension | 4500*3500*2490mm |
| Weight | 2800KG |
| Max.Spraying lehgth | 2500mm |
| Max.Spraying Width | 1300mm |
| Max.Spraying Thickness | 150mm |
| Gun movement speed | 0-1800mm/s |
| Total Power | 3.55KW |
| Air Pressure | 0.6-0.8Mpa |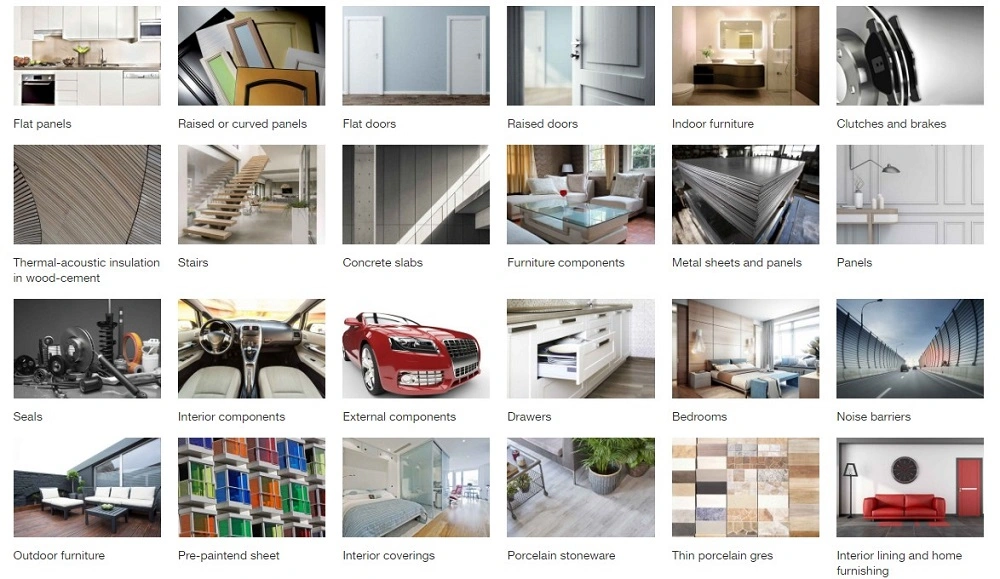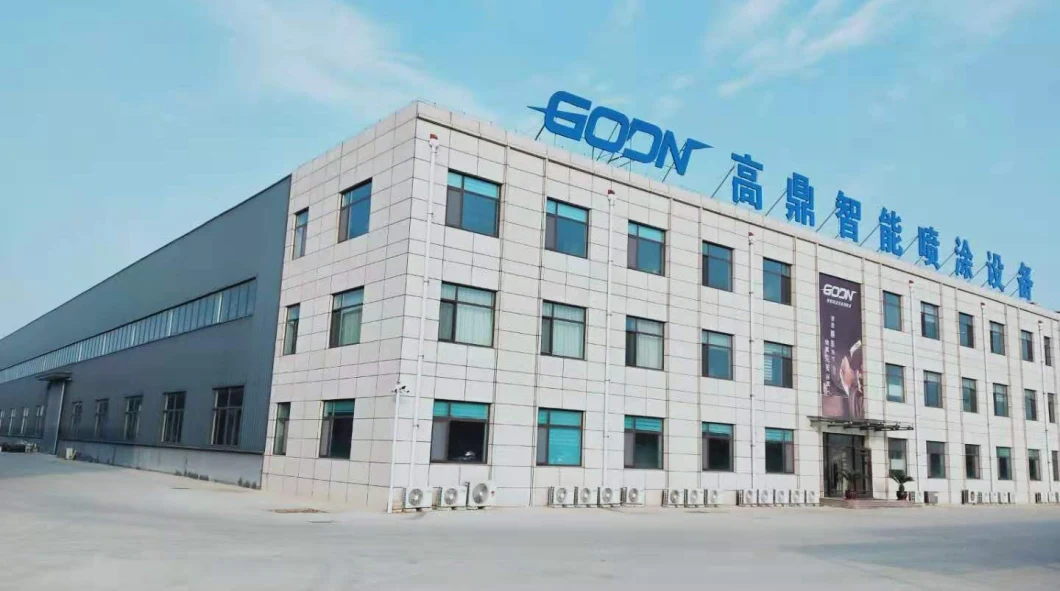 As an excellent manufacturer for Spraying Machine, Godn not only make high quality spraying machinery, but also supplies coating solutions to the customers.

Since established in 1999,GODN is always been working to improve products and quality. Our machine are running all over the world and get good feedback from customers.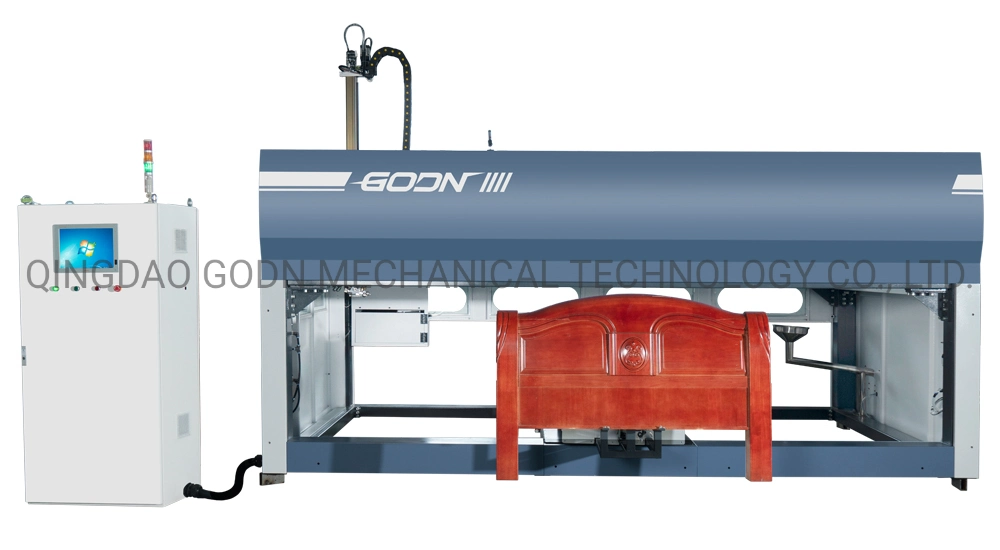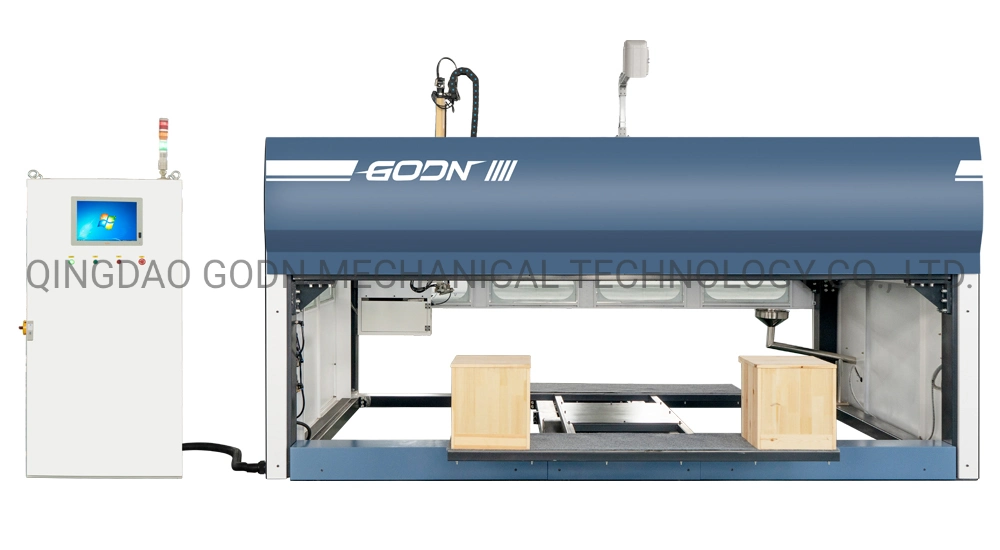 On which materials can I spray coat?
Any material, bearing in mind two conditions.

That the coating must match the substrate material to ensure proper adhesion.
That the piece being coated must be able to pass through the machines/systems.

What are the advantages of spray coating?
Firstly, spray coating ensures all sides of the piece are covered. Secondly, the product shape is unimportant and, since it is not a contact-type coating, different tolerances between products are compensated for automatically.

How can I measure coating quality?
While quality is subjective, it is possible to measure the quantity of coating applied at each point. It's also possible to measure gloss or matt levels using appropriate instruments.

What are the consumption factors I need to take into account in a spray coating process?
Lacquer is the key factor to be monitored, as it is the most expensive aspect of the process. Any variations can make the process more or less sustainable and also have an impact on process quality.

How simple is it to use a spray coating machine?
This depends on the type of machine, the type of conveyor (paper or continuous belt) and the type of filtration (paper or water).

Those who opt for a paper conveyor machine will observe many similarities with manual coating methods: start-up, spray gun feeding, cleaning and replacing filters.
Those who go for a machine with continuous belt conveying will need to perform preparation and maintenance associated with the retrieval and cleaning trolley; nevertheless, these tasks are simple.

What's the difference between an anthropomorphic robot and a Cartesian robot?
Differences relate to the degree of freedom, the type/number of movements they can make and the angles they can achieve.

Anthropomorphic robot: more freedom, virtually unlimited 3-way movement. Unlimited spray gun positioning.
Cartesian robot: less freedom, but can accelerate and move much faster. Limited spray gun positioning.

How long does it take to clean a spray coating machine?
On machines with paper conveying and paper filters, very little time is needed. All you need to do is clean the guns and pump, and replace and discard filters as necessary.
Continuous belt machines require more time at the end of the shift as maintenance tasks concerning the belt retrieval and cleaning device needed to be performed.
With paper-based filtration, the filters must be replaced; water-based filtration requires no maintenance as the system continuously "self-cleans" during operation.

Can I measure lacquer consumption on spray coating machines?
Thanks to flow control systems, you certainly can. However, the coating quality is not necessarily strictly linked to lacquer consumption.

I want to switch from manual coating to automatic coating, what do I need?
Space requirements are similar to those of a manual booth. All tasks can be performed by the same worker who, instead of coating, operates the machine.

Do spray coating machines need a lot of maintenance?
As with manual coating system, maintenance largely concerns the pump and spray guns (i.e. the coating application system).
In the case of a machine with continuous belt conveying, cleaning and retrieval system maintenance is also required.
Machines with water filtration will also require maintenance of the continuous filtration device.

Is there a maintenance service available in my area?
Our network of distributors and branches stretches across the globe. Finding the service you need in your country should be easy. Alternatively, we can send spare parts and technicians directly from our headquarters in just a few days.

Can I manage colour changes?
Yes, dedicated procedures mean they can be managed quickly on all our machines.

Can I manage programming of my workpieces easily?
In the case of oscillating spray machines, all you need to do is provide some parameters and, thanks to the incoming piece reading system, each piece is then coated according to the information entered.

With robots, different work modes are possible so it is necessary to define the way and the order in which you wish to execute strokes and whether to coat certain product parts or not. Programmed this way, each piece loaded and read by the reading system is automatically processed as per the saved information.

Are edges also spray coated?
Of course. This technology was specifically designed to coat surfaces and edges.

What sort of finishes can I achieve with a spray coating machine?
The range of finishes is practically unlimited, also because finishing is more closely linked to the product being coated.

What do I need apart from the spray coating machine?
It is advisable to have a drying system connected to the machine. This ensures more consistent results. It also lowers the percentage of waste compared to simple air drying, which involves some risk of contamination. What's more, some finishes require special drying conditions (temperature, air speed) so an oven is definitely recommended where certain finishes are needed.

How can I boost productivity?
By raising the number of machines or lines, and by increasing (within certain limits) the speed of the machine itself.

How flexible is the machine?
Extremely. Just replacing the product in the spray guns and making a few other adjustments can radically alter the coating. Flexibility is even more pronounced where paper conveying machines are used, as there are no tasks related to the lacquer retrieval and belt cleaning system.

Are sustainable coating machines available?
Sustainability varies from one machine to the next, but depends more on the actual coating process.

Can I get spare parts easily?
Yes. You can order spare parts by email or phone.