Over-all Characteristic
•Adopt uniformity frequency, high stability of wireless signal receiving and sending.
•Siludification of PU varnished shell, dapper appearance with anti-off screw.
•Operation frequency 315M, stability better than 10-5.
•Panel pushing with low-power consumption, long service life bettery.
•Three point of trigger pressing design to ensure the effective action.
•With large capacity output avaliable to be used with autodoor, electric lock and access controller.
•Door open within 2s when signal received.
•Wide voltage input of AV/DC12-36V.
•Function switch with voice indicator power indicator turns green to confirm the validity of operation.
•Widely be used for autodoor and door control equpiment.With the wireless signal output,door can be open by the pushing the panel.Easy installation, specailly for the accasion which have the difficult in wire embedding.
Product Over-view
•This product is with the function of coding self-learn. Make sure the code of remote transmitter has been learned into the receiver before using ( 16 kinds of codes can be learned. )
•Operation way: Press the learned button for 1s, indicator turns green. Press any key of the remote transmitter. The transmitter has been learned by the receiver successfully with two flashes of green light appears.
•Delete method: Press the learned button for 5s, turns to green light, all the codes have been deleted successfully ( Can not delete one by one 0.
•Switch off power when switching the function of L-type and M-type.
•Otherwise, the receiver maintains the previous state.
1) The launch indicator ( When trigger effective turns red light )
2) Pushing Panel
3) Dial switch placed inside, prevent the anti-interference by editing different signal code.
4) Fixing screw
5) Learn button
6) Indicator ( With red light when power is on, turns green when signal received )
7) L-type and M-type available for chosen for the output state.
8) Binding post
The Picture of Wireless Touch Switch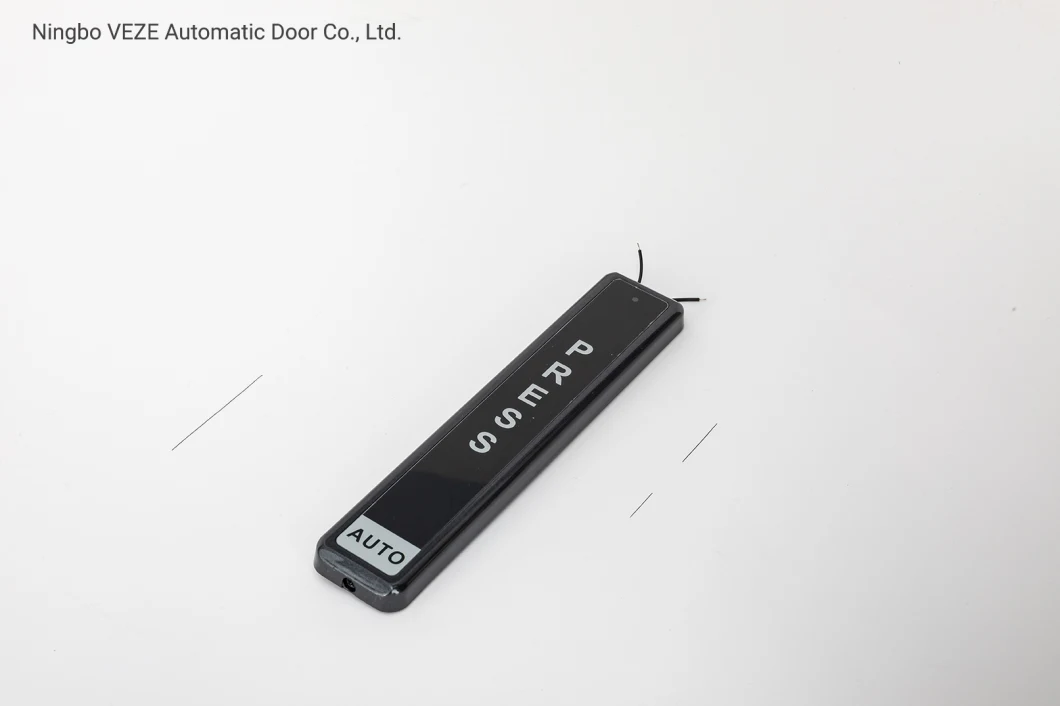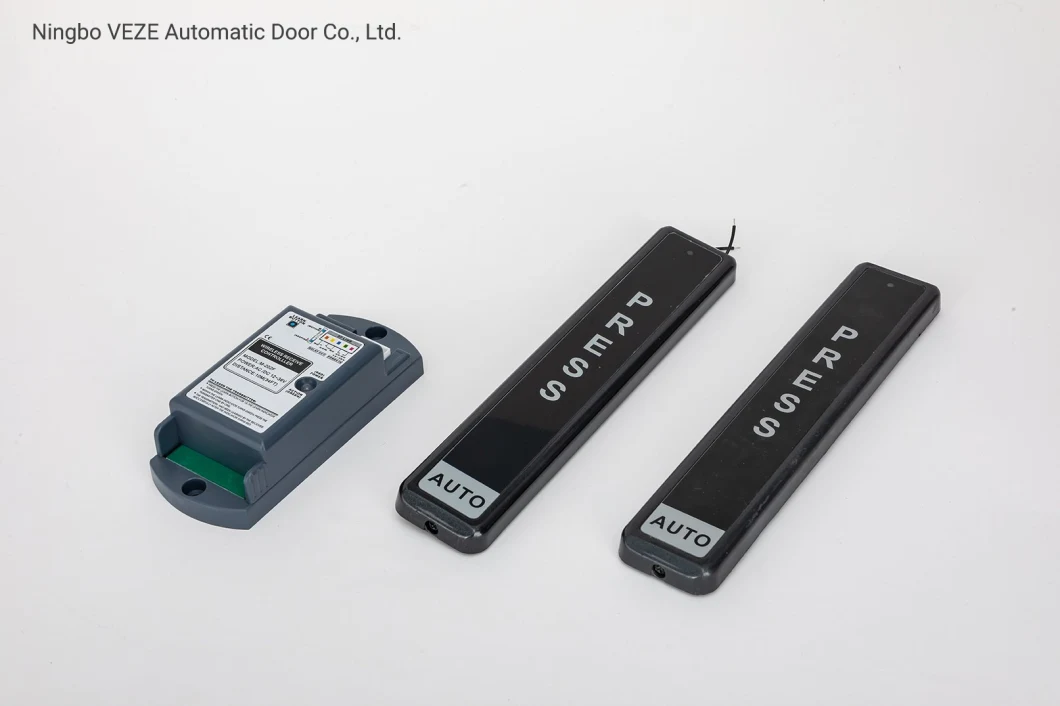 Accessory List & Optional Parts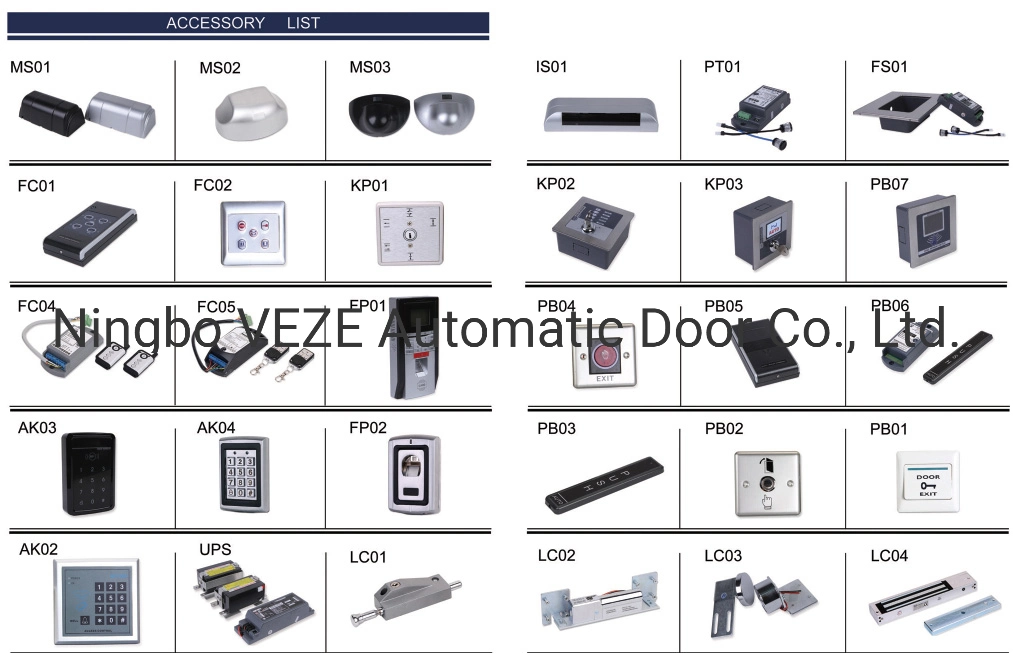 Technical Parameter
| | |
| --- | --- |
| Name | Wireless Receiver |
| Power Supply | AC/DC12~36V |
| Static Current | 15mA |
| Action Current | 80mA ( DC12V Power ) |
| Relay Contact Capacity | 20A 14VDC |
| Name | Wireless Transmitter |
| Power Supply | 6V ( 2/pcs 3V battery ) |
| Emission Current | 3.9mA |
| Life of Battery | More Than 20000 Times |
| Transmit Distance | More Than 25m |
| Operation Temperature | -42ºC~45ºC |
| Operation Humidity | 10~90%RH |
| Dimension | 203mm (L) × 41mm (W) × 12.5 mm (H) ( Transmitter ) |
| Dimension | 123mm (L) × 50mm (W) × 32mm (H) ( Wireless receiver ) |
Other Automatic Doors Accessories
1. Operation
The automatic door operator is to be fully electronic operator, housed in a fully anodised aluminum transom section.
2.Controller
The intelliget controller unit can be programmed for connection to any security/alarm systems, is self monitoring and calibrating, has memory for all data on door stoke and brake positions.
3.UPS
The operator has built-in uninterrupted power supply (Battery back up) operation and security during power failure.
4.Belt Drive
Drive is by way of toothed belt, which is reinforced with fiberglass tensile members, and has nylon facing surface for tooth protection on the pulleys. This combination produces silent accurate operation.
5.Tracking
The track is self-cleaning duel linear. The upper track is made of harder stronger alloy 6351T6, and can be replaced without moving the transom. The wheel trolley is fitted with anti-rise wheels, resulting in very firmly fitted doors with operation free of any racking.
6.Locking
Electromechanical Locking: An electric lock option is available to give total security and can be adapted where manual locking cannot be achieved, i. E. Frameless toughened Glass doors. Lock is the microprocessor controlled electric locking system. The microprocessor monitors all aspects of the lock functions. E. G. To ensure the door is fully closed when the lock is 100% engaged. Terminal outputs are available to signal to security system both door positions and lock status.