The Art.1071.104 is designed with double suspended guide track, making it easy to assemble and free to knock down. It is convenient to maintain and easy to debug, really suitable for heavy duty sliding door. Five status including permanent open, lock, partial open, exit only and auto are supported.
Telescopic sliding door characteristics:
1. Heavy duty brush motor 60V 100W, integrated with transformer, optical encoder, very low noise.
2. Heavy duty carriage wheel 100kgs affordable, and the drop-proof mechanism will never let the door drop from the guide track.
3. Smart microcontroller can self test the door weight and width, and optimize the running curve.
4. Environmental protection idea, opening width 25-90% adjustable, saving airflow.
5. Dual-motor controllable: One microcontroller controls two motors to satisfy the special bigger doors.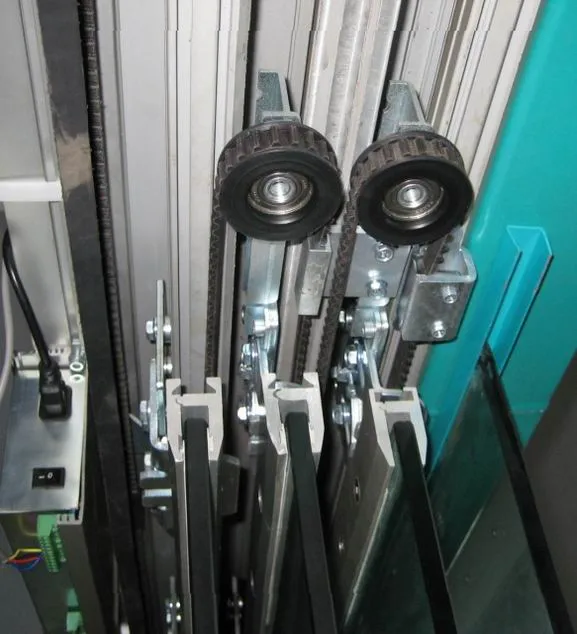 Art. No.1071.104 S-M
Art. No.1071.104 D-M
Motor(s)
One motor
Dual motor
door type
single
dual
2-leaf
4-leaf
max weight
500kgs
2x300kgs
2x200kgs
4x150kgs
opening width
700-5000mm
1600-2000mm
1000-8000mm
2000-10000mm
power
AC 220V±10%, 110V±10%, 50-60Hz
opening speed
500-700mm/s
closing speed
500-700mm/s
hold open time
1-10/30s
manual force
150N
Brush motor
60V
60V
Power consumption
150W
300W
Profile height
200mm
Profile depth
165mm
protection
IP23
ambient temperature
-15º~+70 º