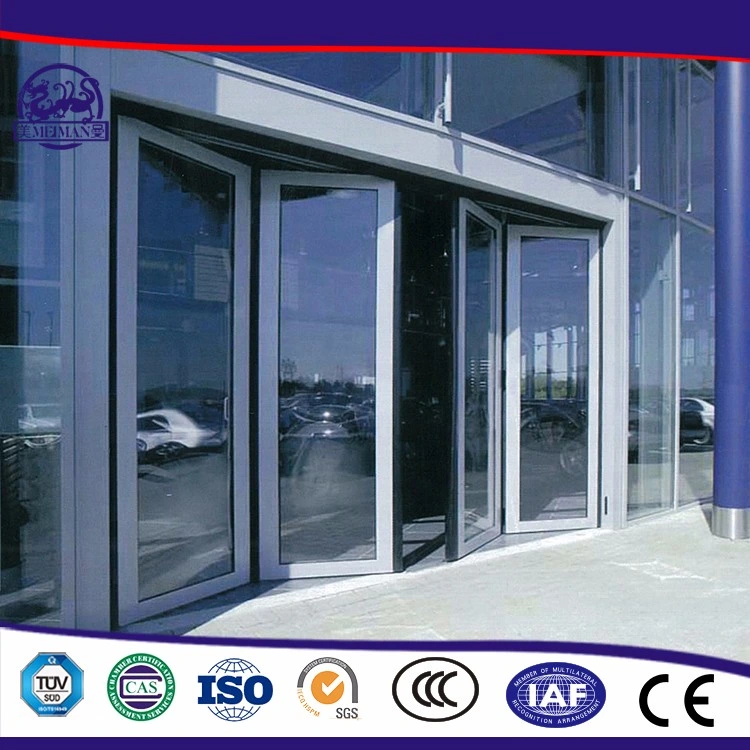 Main Features:
Industrial folding doors are opened by two-way or one-way folding. It is characterized by high safety, reliability, durability, flexibility and quick opening.
Application Scope:
The industrial folding door is suitable for power plant, subway garage, industrial plant, fire brigade garage, small aircraft warehouse, airport cargo field and etc.
Technical Data:
Item

Description

Door Fan

The keel of door is made by galvanized steel plate, both sides cover 0.6mm - 10mm color plate or aluminum plate, integral foaming molding make the door more strength

Thickness of Door Panel : 57 mm / 77 mm

Multi-door structure : when the door does not need to be fully opened, allowing part of the door to open,which may reduce the time of running and temperature loss of the building

Guide Rail & Guide Wheel

The material of top guide rail is galvanized steel or aluminum alloy,thickness : 3-5mm

The material of bottom guide rail is galvanized steel or aluminum alloy with small angle waterproof slope, thickness: 2mm.

The guide wheel is made of closed bearing and PA66 nylon,four pcs of wheels constitute a group to increase the strength and smoothness

Sealing

High density double-layer brush is used to seal the bottom and the top of the door body. The door frame and each door panel are sealed by EPDM rubber.

Control Model

1> Remote control

2> Entrance guard

3> Geomagnetic

4> Infrared induction

5> Radar

Width of Door Fan

800 - 1500 mm

Height of Door Fan

Maximum : 13000 mm

Thickness of Door Fan

57mm for 7000mm of height

77mm for above 7000mm of height

Hardware

A Latch and a handle installed on the manual door

The motor lock is installed in the closed position of the electric door while allowing the door to be opened manually.

Optional

The standard RAL color can be chosen as polyester powder coating.

Double layer acrylic glass or tempered laminated glass window

Pedestrian door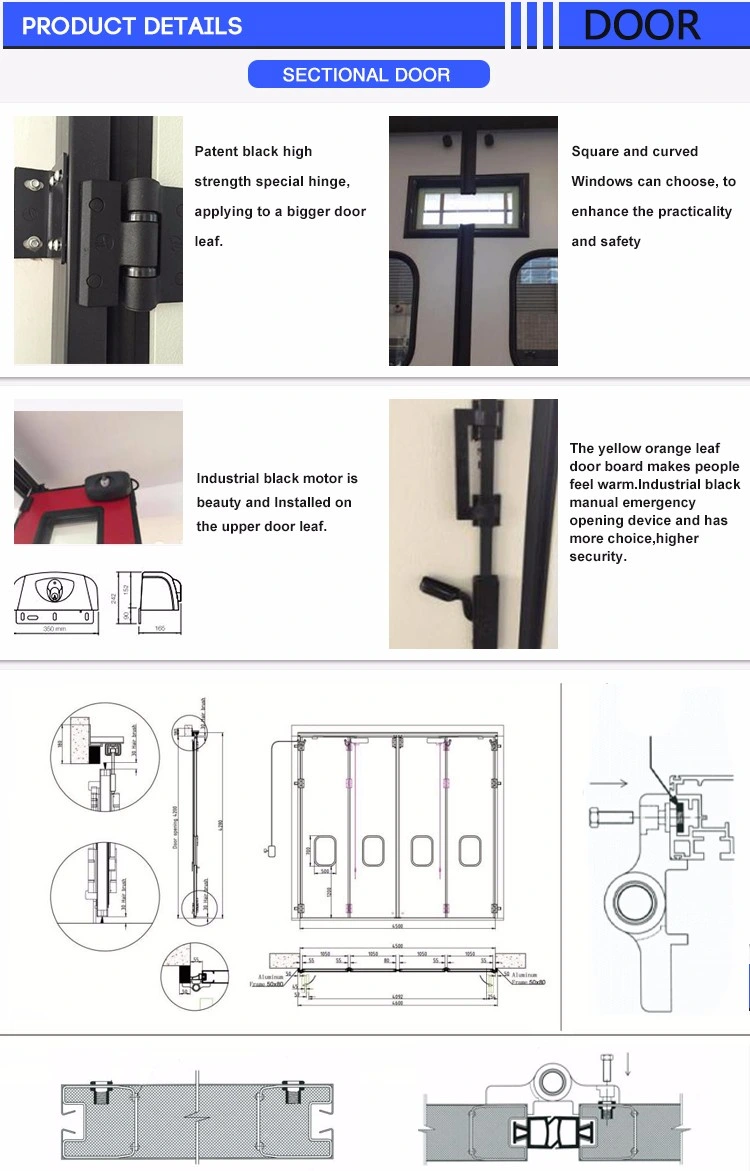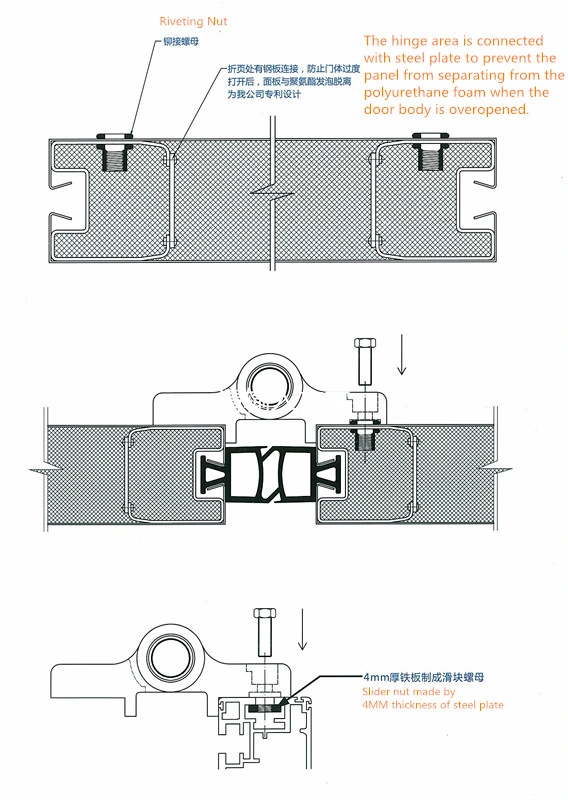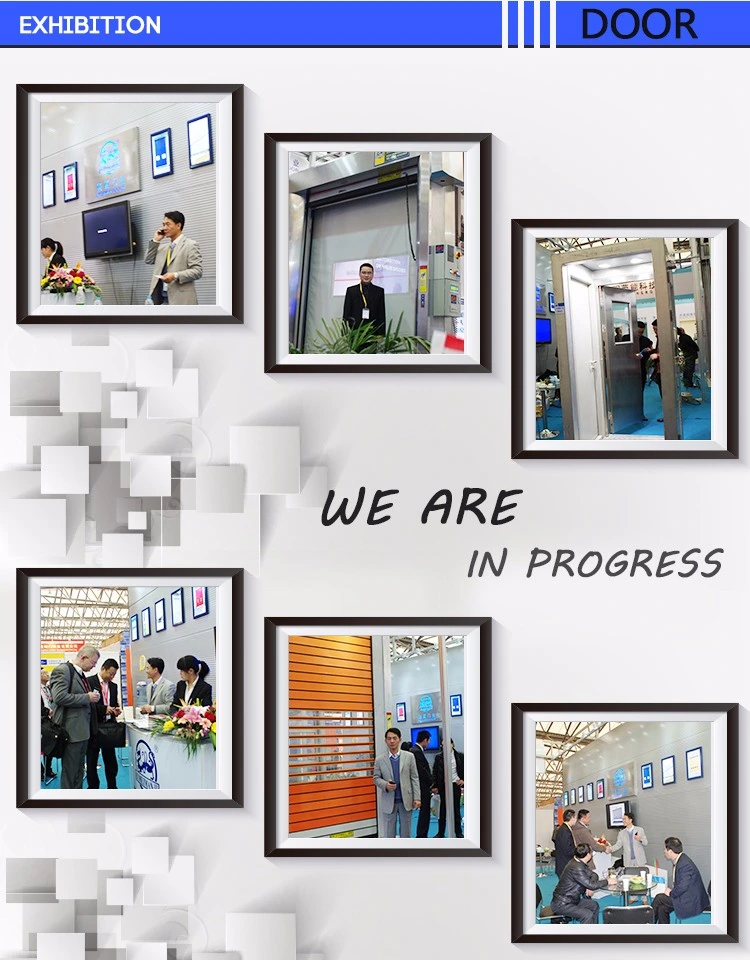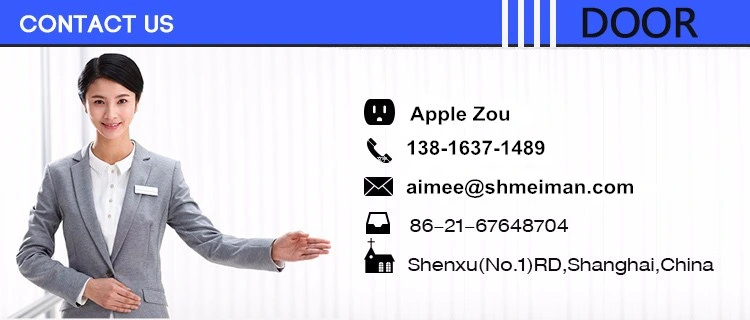 Remarks:
1. Established in 1997, we have gained much experience in door solution for various industries.
2. Honors and Certifications:
A. The member of Standard Committee of China Automatic Door and Garage Door
B. The member of Committee of China Steel Structure
C. China AAA enterprise
D. ISO9001: 2000 Management certification.
E. CE Certification